Today we're getting to Asia: that's why I'm publishing a great post written by Agness from Etramping.com: this can be an useful mini-guide if you decide to spend 36 hours in Siem Reap, Cambodia.
Nowadays, Siem Reap is one of the most visited places in South-East Asia for the sake of its amazing sights and history, fascinating night markets, local hospitality, delicious cuisine and affordable prices.
Source: http://etramping.com
Although most of travelers and backpackers head to Siem Reap mainly to see the
UNESCO World Heritage Site of Angkor Wat
, this place has much more to offer with its history dating all the way back to the year 802. Although I don't believe you could see everything that Siem Reap has to offer in just 36 hours, here are some tips and sightseeing recommendations that can help you a lot and make your voyage much easier, cheaper and definitely more fun.
How can I get to Siem Reap?

Getting to Siem Reap is quick and easy if you are staying in Thailand, Laos, Vietnam or Cambodia itself. The cheapest way is to travel overland, but you can also fly. For example, there are daily flights from Hanoi and Bangkok to Siem Reap which cost around $30-$80.

If you want to travel overland, it involves getting to the Cambodian border town of Poipet first (by local bus, train or van), then crossing the border on foot to finally catch a bus or tuk tuk which will take you directly to Siem Reap. The whole journey may take you up to 5-7 hours and it should not cost more than $15.
As for
Laos – Cambodia border crossing
, you can easily do on the cheap saving up to $33 without paying bribes.
How can I get around the city?

As Siem Reap is a very small town, you can easily walk everywhere saving your money on transportation.

If not, take a tuk tuk which is not only cheap (single ride prices start from $1), but it is also a great experience and a lot of fun - unlike Phnom Penh, a lot of the drivers know English. Tuk-tuks range from $10 to $20 for a full day at the Angkor temples, but you should always bargain no matter what! The drivers usually hold up to 4 people but 2 is safer as they are unstable with poor brakes and can be dangerous in wet weather.

For such active people like me, I would recommend renting a bike and cycle around the town. With a possibility of renting one from $1 to $5 a day (depending on a type and quality), they don't cost a fortune and there are so much fun!
Source: http://etramping.com

Believe me or not, but Siem Reap is one of these places where you can sleep for $1. If you are a budget traveller, you should not spend more than $1-$4 per night. Siem Reap is packed with cheap hostels and hotels so you can easily find something once you get there. There is no need to book anything online. To give you an easy let me introduce some options we have checked out already:
Garden Villa - a bunk in the dormitory costs $1, alternative is a room with just less than 30 people and a fan for $2. Free Wi-Fi, great people and nice breakfast served for around $1-$2.
Source: http://etramping.com
Orchidae Guest House - higher quality and probably more secure room in comparison to Garden Villa and the prices start from $3 a night. You can relax on a hammock outside where you can connect your laptop to power plug as well as free Wi-Fi.
What and where should I eat?

When it comes to food, Siem Reap can never be a challenge for those travelling on a tight budget. You can enjoy delicious, light and healthy meals without spending much money and the town is filled up with affordable coffee shops, local restaurants where you can find good value for money.

I would highly recommend visiting 5 Sons restaurant owned by an amazing Khmer family. You can easily find it on the street which immediately where Pub Street ends, down the road from X Bar, on the left. Staff are great, food brilliant and more than affordable. For example, a plate of fried rice with eggs and veggies costs only $1.50.
Source: http://etramping.com
When it comes to buying food in Siem Reap, there is one simple rule -
the further away you go, the less expensive it gets and the more variety you can choose from
. It's actually not only street stalls but also local restaurants that offer good prices. Therefore, you should never hesitate to try food in less than appealing places! It's yummy and much cheaper than you think!
What should I see and do in Siem Reap?

Obviously, visiting the Angkor temples is a must. The scale of the temple is overwhelming so a three-day pass, which costs around $40, is necessary to enjoy. If you don't mind getting up very early (4 am ish), you can admire the incredible sunrise and trust me, it's so worth it.


Afterwards, you can explore
Preah Khan
which has stunning sculpture, loads of corridors to explore, atmospheric tree-roots climbing over the walls, and far fewer tourists than the more central temples.
If you like visiting
floating villages
, you can go on one or two day trip to
Kompong Phluk
where you can sit in your boat passing by tree tops, floating pig pens, locals paddling to local stores for provisions, fish drying in the sun and other idyllic village scenery.
If you like parties, you can't miss the famous Pub Street from where you can buy refreshing fruit cocktails, cheap beers and other alcoholic drinks as well as ice cream and a lot of different desserts. The Pub Street is full of tourists and locals and it's surrounded by many coffee shops and restaurants which serve the food from around the world.
When in Siem Reap, you should also
watch a traditional Apsara dance
at Angkor Village Hotel's Apsara Theatre,
take on a Khmer cooking class
and get a fishy foot massage for only $1!
Have you been to Siem Reap? If so, what was your first impression?
---------------------------------------------------------------------------------------------------------------------------
ETRAMPING SHORT BIO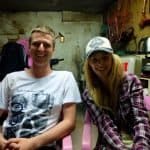 Meet eTramping crew - Agness and Cez – best friends and travel companions from Poland. These two are sharing their budget travel tips on how to
travel the world with $25 in your pocket
. Since 2011, they have been travelling the world while teaching English in different Asian countries such as China, Thailand or Cambodia. They are both photography passionate obsessed with Chinese cuisine and culture.